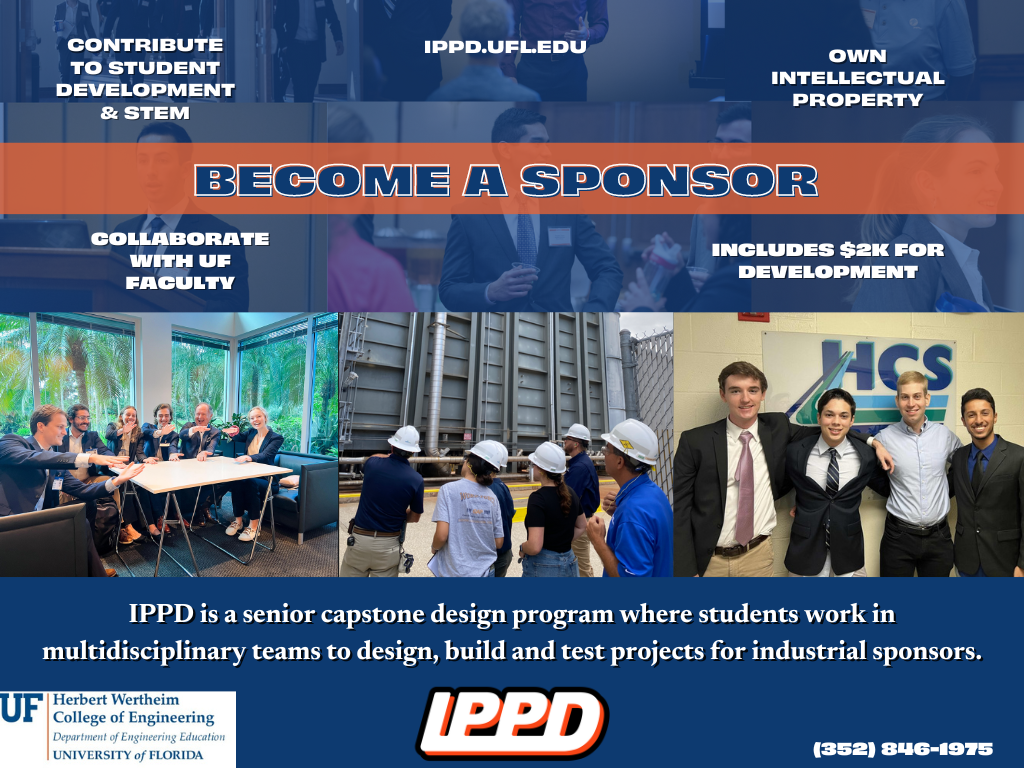 Project Sponsors
We invite you to join and experience the many benefits of the Integrated Product and Process Design program and see how your company can impact the future of engineering. IPPD projects should meet a specific need for your company and should involve both design and prototyping. Our project categories include electronics, machines and components, software, biomedical and processes. Companies will designate a liaison to interact with their teams, along with the contribution of an educational grant to cover project costs.
Sponsorship Benefits
Creating Company Innovations
Offers a unique vehicle for companies to get R&D projects completed at reasonable costs.
Provides your company valuable interaction with faculty who have interest and expertise in technical areas of your business.
Presents an opportunity for your engineers to mentor the new generation of engineers and manage a project team.
Produces a final design that is fully owned by the sponsoring company.
Impacting a New Generation of Engineers
Offers an outlet to contribute to the education of engineers.
Exposes potential new hires to the company's culture.
Gives our students insights into your company and allows you to identify and recruit the best graduates.
Access to the IPPD bio book that includes a professional biography and resume for all student participants
Opportunity for recruitment inside and outside our IPPD network.
Sponsorship Opportunities
Sponsor a Project
Submit a project idea through our UF Qualtrics form.
Contact us to schedule a conference call or conduct a site visit to explore project opportunities. After meeting, we will create a customized timeline for your company, detailing each phase of the IPPD process.
Check out our current and past projects for ideas.
Attend one of our annual events (the System Level Design Review or Final Design review) to get a glimpse at what IPPD has to offer.
Sponsor an Event
If your company does not yet have a project concept but wants to collaborate with the University of Florida, contact us to discuss how IPPD's Sponsorship Levels can benefit your company.
Our events include: Team building and technical workshops, System Level Design Review, Final Design Review, Prototype Inspection days and various outreach events.