This week, Pythax was able to finally host a CTF competition using the updated platform with all the changes that the team has been hard at work implementing this semester. As per last week's post, this competition was run using the Software Security class here at UF as test subjects. Students received a quiz grade and were able to earn extra credit for the class by participating and submitting feedback on a questionnaire afterwards.
This CTF was a great opportunity for Pythax to gain some critical feedback on their work, specifically the changes that have been made to the non-admin user views. This includes the game board, login & registration, and score board pages.
CTF1 was run using the original platform that was given to the team by Raytheon Technologies (RTX), and the sample size for that CTF was estimated to be around 12 participants (although it is hard to say for sure, since teams can vary in size). This time around, the CTF had a whopping 42 discrete survey submissions, which is a much better turn-out!
One of the areas from the feedback form that received criticism from judges in recent presentations was that Pythax received a "thumbs up" from 100% of the users in CTF1. The same reaction came from CTF2, with all 42 surveys saying they enjoyed using the platform. This time around, however, more questions were included to gauge the users specific reactions and opinions to certain features of the app, and we were able to get more honest feedback as a result.
Some of the feedback included complaints about server lag, having to format/spell answers perfectly, and questions not being related to their class. Some users indicated that they would like to see some UI enhancements, and some features were suggested as additions/improvements. Some of these features had already been considered by the team, but were left as stretch goals or had been marked as undesirable in meetings with our liaison engineer from RTX.
All in all, CTF2 was a major success! Lots of feedback was gathered for the team to deliberate on and implement for CTF3, which will be hosted in early April. We're looking forward to honing our work and making the Hacker Jeopardy platform as fantastic as possible!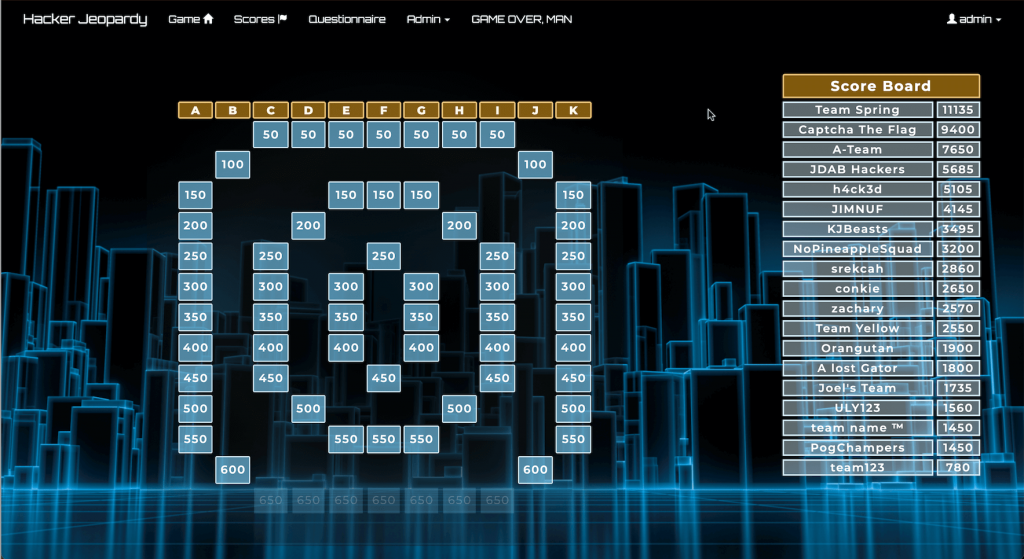 Pythax would also like to thank Dr. Byron Williams and his students for participating in CTF2 and providing wonderful feedback.